There are many reasons why people of diverse sexuality or gender (often referred to by the acronym LGBT or LGBTQ indicating Lesbian, Gay, Bisexual, Transgender and Queer) can experience disparities in key health indicators.
What are the barriers?
These can include a range of systematic barriers to accessing care. These influences can include:
public health campaigns that are not inclusive of LGBT people
the lack of inclusive language in brochures, on websites, and on forms
the attitudes of staff, and
the need to negotiate binary databases and systems.
past experiences of discrimination,
Avoidance is one mechanism of ensuring there will not be a repeat of these behaviours. However, this may be at the expense of good and preventative healthcare.
Why does lack of access matter?
This lack of equitable access to care services, the lack of culturally safe services, and the attitude of "we treat everyone the same" has meant that the LGBT community experience significant health differences when compared to the cis-gendered, heterosexual population.
Pride and Health + Wellbeing has summarised some of these key metrics into an easily understood infographic to highlight to services and care staff the "WHY" of inclusion.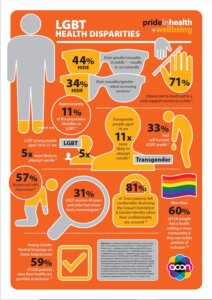 Let us help you!
If your service would like assistance in reviewing your LGBT-inclusion journey and support to go through the organisational capability changes required to achieve sustained, meaningful and inclusive care, the Pride in Health + Wellbeing program provides support to help you achieve this.
Through a dedicated Relationship Manager, we guide and mentor your organisation to ensure culturally safe service delivery for the full lifecycle of your client/patient interactions. We draw from the rich knowledge base and lived experience of ACON, as well as evidence-based, best-practice models.
We will help you move beyond one-off training to provide ongoing support that will embed your inclusion focus into your service delivery.
Find out more
For further information about our Member Program please visit: https://www.prideinhealth.com.au/membership/member-benefits/